CAI Clip-On Fixed Jaw
How It Works
Jaw Mounting Options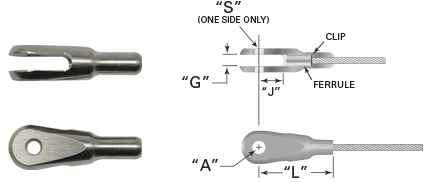 | | | | |
| --- | --- | --- | --- |
| CAI Clip-On Fixed Jaw | SWAGE | | 316SS |
Cable Dia.
Part No.
Use With
Ferrule No.*
Use With
Screw No.*
"S"
HOLE DIA.
"A"
THREAD
"G"
JAW WIDTH
"J"
JAW DEPTH
"L"
LENGTH
1/8"
20ACFJ4
20FF4
11HBS8
.260"
1/4"-28
.260"
.56"
1.75"
3/16"
20ACFJ6
20FF6
11HBS8
.260"
1/4"-28
.260"
.56"
1.75"
Please click part number to order.
*Order Ferrule and Screw separately.
How It Works
Same as our CAI Fixed Jaw fittings, except the cable is attached to the fitting with a special clip that is installed on site by hand. The cable is supplied by the factory with a tensioner on one end and a ferrule on the other end. There is no field swaging. You simply slip the ferrule end of the cable through the body of the fixed jaw, slip on the special clip, then pull the cable back through the body to secure the cable inside. Check with the factory to determine cable lengths to be supplied with swaged fittings. Available for 1/8" and 3/16" cable only.